Palki, Mandap and Chandoa – How do these items pertain to a Sikh Destination Wedding or Anand Karaj
These three items are utilized to praise and respect the written word in the Scriptures, the Guru Granth Sahib ji.
Palki: A canopy-like structure called a palanquin that can be made of wood or metal palanquin in which the Guru Granth Sahib is ritualistically kept as a place of reverence.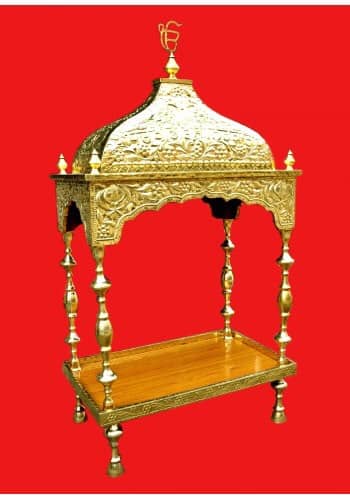 Mandap:  The Mandap utilized at a Sikh Wedding is a 4 poster structure that is set up to place the Sikh Scriptures in during the Sikh Wedding Ceremony, Anand Karaj.  The sacred writings are put inside this structure and a Chandoa (fabric that is hung inside) is used to cover the top of the Mandap.
At times where there is no Mandap or Palki accessible, the Chandoa is hung from the roof or posts. It is to be hung over the Guru Granth Sahib ji out of a sign of respect and reverence for the writings in the scriptures.  The Palki is rarely utilized at Destination Sikh Weddings yet is a typical apparatus at customary Sikh weddings.
Chandoa:  The Chandoa, or fabric, is hung above the Guru Granth Sahib. This cloth is used as a canopy and is hung and connected at the top four corners inside the Mandap.  Below is a picture of a mandap and Palki inside it at a destination Sikh Wedding.
If you are having a Destination Sikh Wedding or Anand Karaj, please contact sikhpriest@gmail.com.  Dr. Singh and Leela are experts at conducting a Sikh Anand Karaj with respect and reverence in any part of the world.