Contact: Sikh Destination Wedding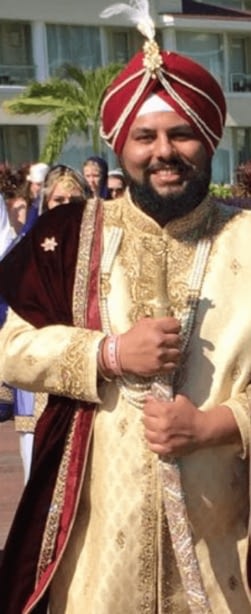 We Look Forward to Hearing from You
Please share the details of your upcoming Destination Sikh Wedding, be it a cultural, multi-faith, fusion, or Interfaith Indian Sikh Destination Wedding union.  Please fill out the form below and you will receive a FREE quote from our Manager, Mandeep Kaur.  All humanity and worldwide locations are welcome!
PLEASE NOTE:
As of 2022, ​due to unpredictable weather changes​ and extreme heat​, ceremonies ​will only be conducted in indoor locations, or ​in ​fully covered permanent outdoor structures/tents/marquees – NO beach or terrace locations.  ​Everyone​ including the guests, couple, and officiants ​must be fully covered.
If you are filling out this form on behalf of the couple, please include their email address.  The wedding couple will need to finalize the booking.
Check out the Sikh Destination Weddings FAQ's page to address any possible concerns you may have.
Our (Dr. Singh and Leela's) home base is Canada, but we are often flying in from another international location as we conduct ceremonies globally.
You will receive a response within 3 – 5 days.
Frequently Asked Questions
Please check out our Sikh Destination Wedding FAQ's page to address any concerns you may have regarding our Destination Wedding Services.
sikhpriest @gmail.com